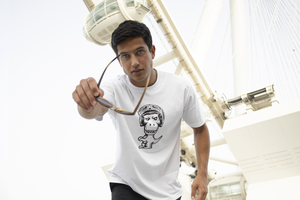 OUR MISSION
---
At Regno, our mission is simple yet powerful: to empower you to express your individuality and creativity through fashion. We believe that what you wear should not only make you look good, but also make you feel good. That's why we meticulously curate limited prints, steering clear of mass production, ensuring each piece is a testament to exclusivity. With our designs crafted from premium fabrics, we guarantee both exceptional style and unparalleled comfort. Embrace the joy of being truly unique as you indulge in our thoughtfully created garments.
SIGNATURE TEE
INDULGE IN THE RECOGNITION YOU DESERVE AS AN EXCEPTIONAL INDIVIDUAL. OUR EXQUISITE ARRAY OF TEES IS TAILORED TO SATISFY YOUR DISTINCTIVE TASTES, ELEVATING YOU TO A COVETED STATUS THAT ENCHANTS ALL WHO SURROUND YOU.
EFFORTLESS POSITIVITY
UNLEASH EFFORTLESS LUXURY: INTRODUCING THE REGNO NUDUS T-REX PIMA COTTON T-SHIRT - A FASHION REVELATION. EXPERIENCE THE ULTIMATE BLEND OF TIMELESS SOPHISTICATION, UNMATCHED COMFORT, AND IMPECCABLE FIT.
THE LIMITED EDITION
ELEVATE THE T-SHIRT TO NEW HEIGHTS:
BEYOND A MERE GARMENT, WE CRAFTED A WORK OF ART.
IT'S A SYMPHONY OF STYLE, A BOLD DECLARATION OF YOUR UNIQUE IDENTITY,

AS SEEN ON
---